At Dive Scheduler we understand that every Dive Boat or Resort schedules their boats differently and when selecting dive sites you may not be able to every combination of dive sites on a single charter due to their proximity.  So Dive Schedule we introduced the concept of Destinations.  These are groups of dive sites you may go to on a single trip. This works if you set your schedule or allow the divers to select the dive sites.
In the picture below the green push pin is the departure location usually the dock or marina.  Then there are 2 destinations, the red "West Wrecks"  and black "East Reef" circles.  Maybe as an example, you go to the "West Wrecks" Monday, Wednesday, Friday, Sunday and "East Reef" Tuesday, Thursday, Saturday.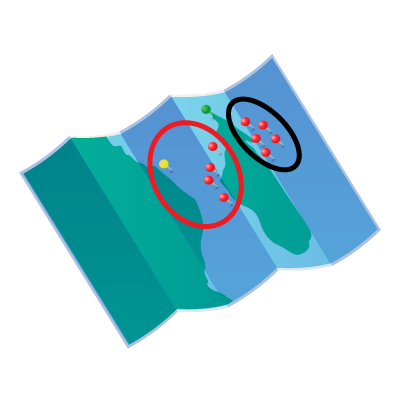 When creating a new Charter departure slot you can simply select the destination as a group of dive sites and it will eliminate the other sites as options for that departure slot. Since you would not want on a single charter to have to go to the East and West dive sites.
One Additional feature is an upcharge.  If you see in the image in the Red "West Wrecks" there is one push pin that is yellow.  This site is further out than the rest and if the charter is going to go to this site there will be an upcharge or surcharge.  This upcharge can be any value you determine and you can have multiple upcharge rates based on the dive site.
Note:
Dive Sites can be in multiple destinations
Dive boat does not need to allow divers to select dive sites.  Dive Boat can either preselect sites based on their calendar or leave them set to Captains Choice and letting the divers know they will be selected the day of the charter depending on conditions and weather.