There are going to be times you need to add additional slots to your calendar that are outside of your typical schedule.  No problem, this How to will show you how to add additional single trips or charters to your calendar.  This could because you filled one boat and adding an additional boat for the day, adding a second charter for a day or any other reason you need to add a single charter to the schedule.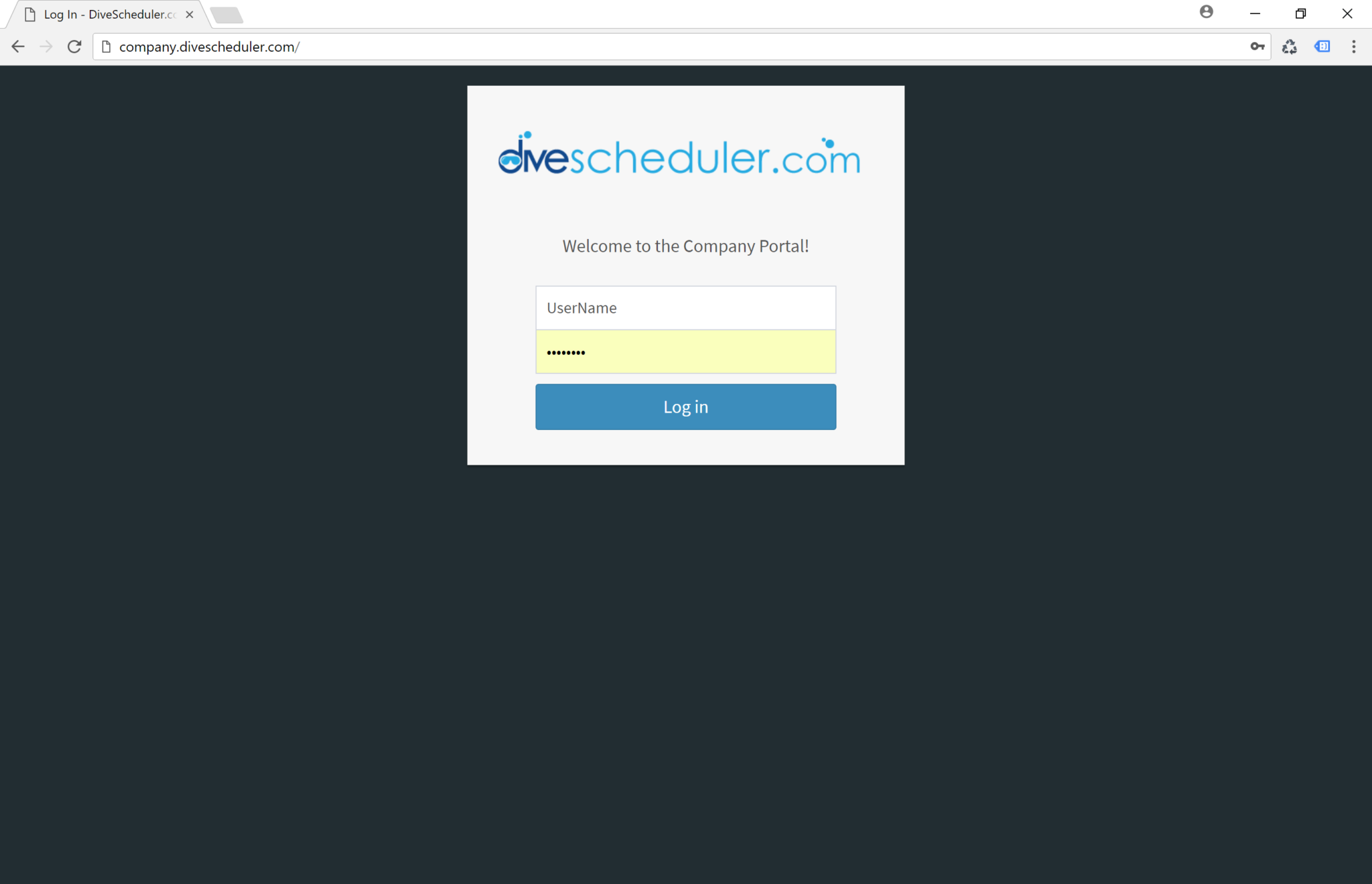 Step 2: You should now be on the Company Dashboard, see image below.  Select "Customers" in the left navigation bar.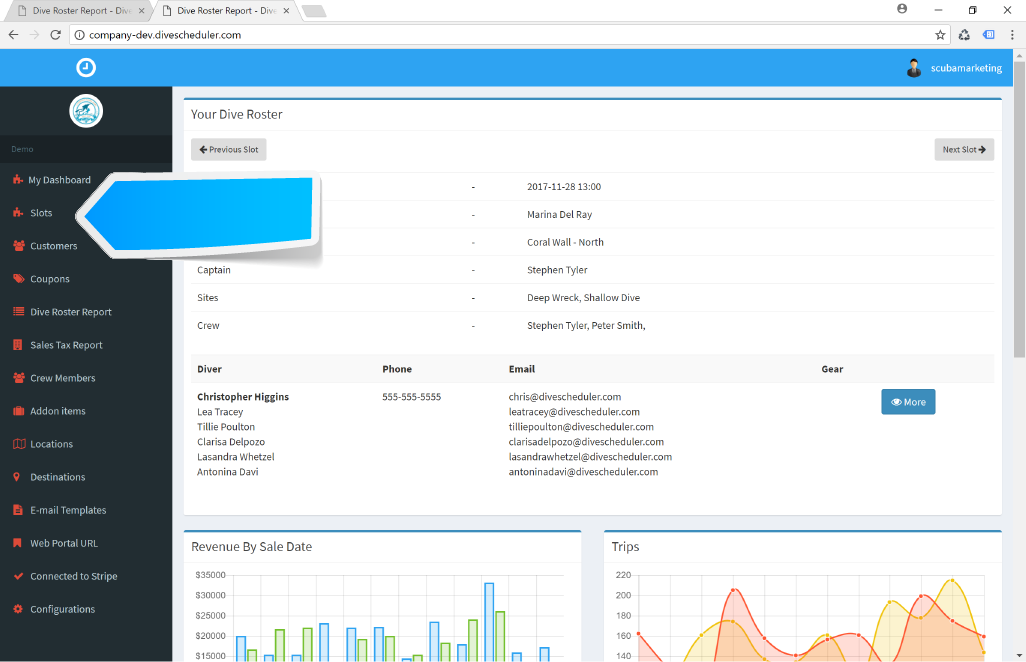 After selecting the add new slot button you will get a popup window to guide you through the process.  First are the Date and time.  This will be the departure date and time of the additional charter you need to set up.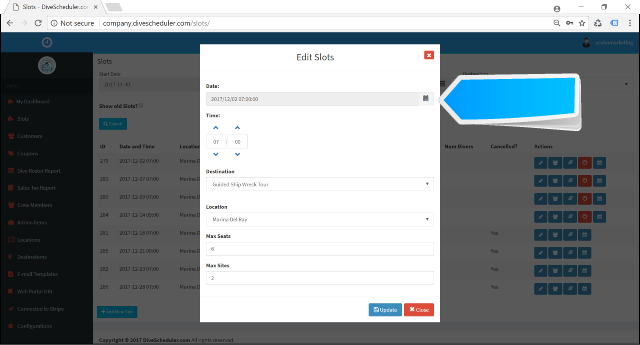 Next is Destination, this is the group of dive sites that will be available for that charter.  Many dive boats may limit sites based on their calendar or based on the distance and travel time so they make sure they get back for the next charter.  Some dive boats do not list dive site name but generally "Captains Choice Reef".  If you have a question look at past charters and check the destination setting for similar charter.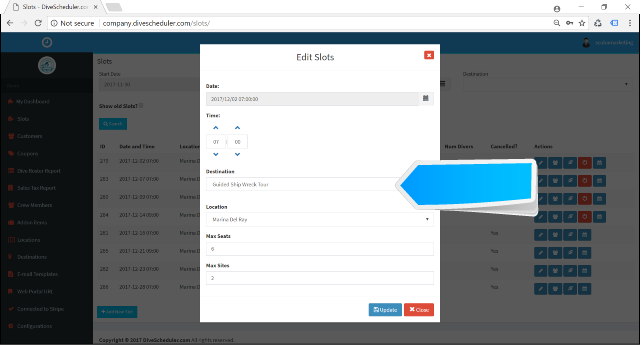 Location is the departure location.  Depending on what you have chosen in your setup this may be a meeting place, dock location etc.  Most dive boats only have one location if they always leave from the same place.  If you have multiple boats that leave from multiple locations or your departure location changes based on the season.
Note: If you do destination multi-day trips the location will be the resort location.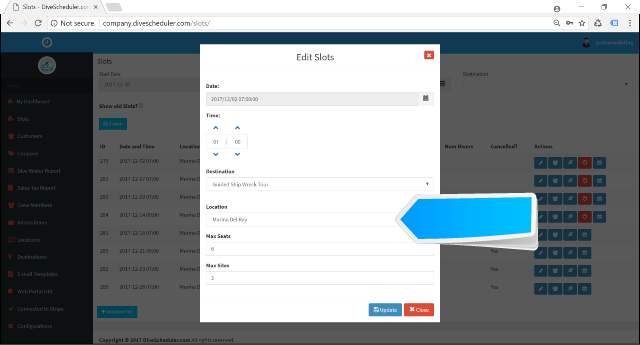 Seats is the maximum number of divers you want to be able to book for this charter.  This does not include crew.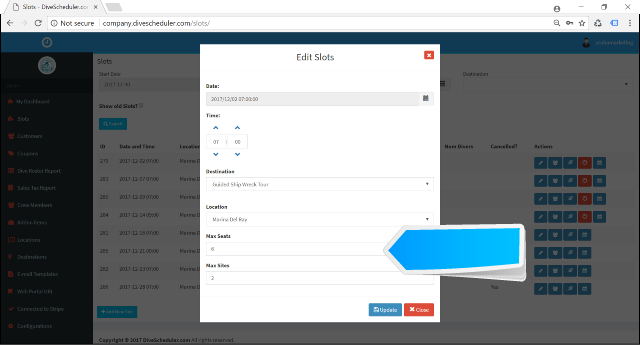 The number of sites.  This is the number of dive sites you will visit or the number of tanks for the dive.  For example, a typical 2 tank dive will visit 2 dive sites.  However, you can do 2 tanks at a single site.  In that case, when adding the dive sites you would just select the same site two times.